Taylor and Caitlin
It is most important to us for you to know that we love you.  Even though we have never met you, we already know something deeply true about you. We know that you love your child. Nothing will ever take away your dignity as your child's biological parent.  
The same love which you have for your child, we share with you. We so look forward to living out the joys of parenthood. We promise that we would love your child with all our hearts and give him/her a life full of faith, hope and love.
We adopted Clare in March of 2021.  We got to meet with her birth mother and her family during her pregnancy, and we are building a lifelong relationship. While we are blessed by the opportunity to raise our daughter, we will always remember the amazing woman who gave her life and will make sure Clare is also aware of that great gift from her strong birth mother who we love and respect so much!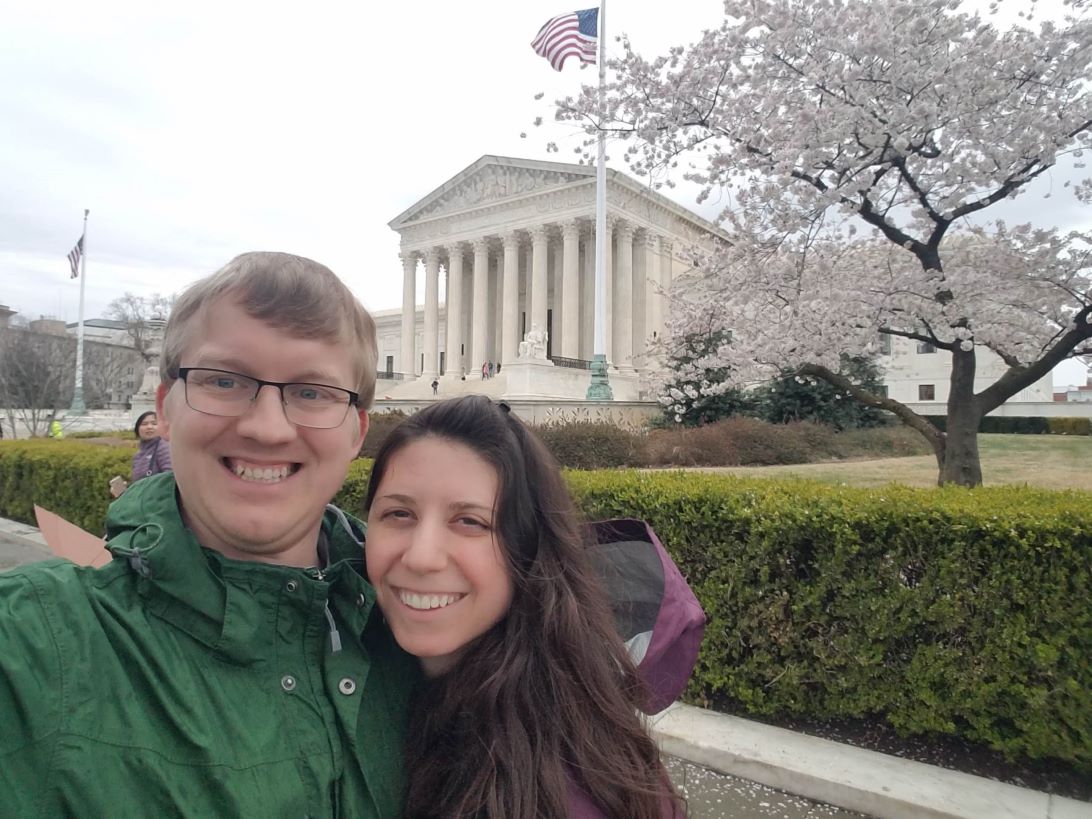 Our Story
We met at a faith-based young adult group shortly after Caitlin started her first job after college. After just a few conversations, we both knew we really wanted to get to know one another better! We quickly discovered we had a lot in common: goofy sense of humor, adventurous spirits and a love for people and learning.
Our wedding day was one of the most beautiful days we could have asked for, and today we can confidently say that we married our best friend, and are even more in love now than we were then!
What I Love About Caitlin!
There are so many things I love about Caitlin! From the moment I met her, I've been drawn to the energy she brings to everyone around her. 
Her joy is contagious. 
She cares deeply about people.
She is a truly amazing mom!
And, she is my wife. She loves me deeply and intentionally.  
A Few Fun Facts about Caitlin:
She LOVES Mexican and Italian foods, chocolate and coffee
She knows how to speak Spanish and German
She enjoys knitting and sewing and she's really great at it!
She loves Narnia and Lord of the Rings
She loves music and dancing.
What I Love About Taylor!
I married Taylor because he is one of the most thoughtful, loving, joyful, and faith-filled men I have ever met!
He is thoughtful.
He has a generous heart.
He listens!
He loves deeply too!
He's funny.
He works hard for what he wants. 
He stands up for what he believes in.
He is also an amazing dad to Clare! 
Any children we are blessed to raise will know beyond a doubt that they are safe, loved, important and valued. 
Fun Facts About Taylor:
He enjoys visiting other countries.
He was a high level gymnast
He is skilled at woodworking
He loves the snow! 
God loves you. We do too!  Please contact SOFA to take the next step.
Have You Found the Right Family for Your Baby?